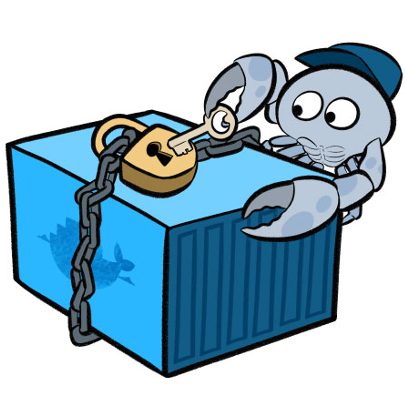 Docker Secrets is an incredibly powerful and useful feature that helps build secure applications. If you haven't checked out the great talk from Riyaz Faizullabhoy and Diogo Mónica at DockerCon about how they truly put security first in Docker, you really SHOULD stop and watch it now.
Now that you've watched that, you know how great secrets are and why you should be using them! They're awesome! But… how do we get used to using them during development? Here are three ways (according to me anyways) on how to use secrets during development:
Run a Swarm
Mount your own secret files
Dynamically create secrets using a "simulator"
There are definitely pros and cons to each method, so let's dive in and look at each method!
Method One: Run a Swarm
In your local environment, you could simply spin up a Swarm (docker swarm init and then docker stack deploy -c docker-stack.yml app)
Pros

Exact same setup that would be used in non-development environments
Could scale out your local environment with multiple nodes to add capacity

Cons

Can't use the build directive in your stack file to build an image for your development environment
If using more than one node, you likely won't be able to mount your source code into the container for faster development
Can get confusing if you have a stack file for production but a different one for development
Method Two: Mount your own secret files
It would be nice if we didn't have to use a Swarm locally to be able to use the build directive and allow us to mount our source code. Since Docker secrets are made available to applications as files mounted at /run/secrets, there's nothing preventing us from faking it all by mounting the secrets ourselves. So, imagine we had a project structure like this…
docker/
  app/
    Dockerfile
  secrets/
    DB_USERNAME
    DB_PASSWORD
    DB_NAME
src/

We could have a docker-compose.yml file that looks like this:
version: "3.1"

services:
  app:
    build: ./docker/app
    volumes:
      - ./docker/app/secrets:/run/secrets
      - ./src:/app

Now, running docker-compose up, our local environment will be built and the secrets will be mounted to /run/secrets. Everything will work just the same as Method #1, but without the complexities of running a full swarm.
Pros

Don't need a full swarm
Can use familiar docker-compose up (and other Compose tools) to spin up the dev environment
Even though the secrets aren't delievered via Swarm, the app doesn't know and doesn't care

Cons

Need a file per secret. More secrets = more files
Have to look at filesystem to see what secrets are available and their values
Method Three: Dynamically create secrets using a "simulator"
Building on the success of the previous method, it would be nice to remove the need of maintaining a collection of secrets files. So… I've created a "Docker Secrets Simulator" image that "converts" environment variables to secrets. Using this approach, I can define everything within the docker-compose file and no longer need a lot of extra files. I only need to add one more service to my docker-compose file. Here's what the updated compose file looks like…
version: "3.1"

services:
  secret-simulator:
    image: mikesir87/secrets-simulator
    volumes:
      - secrets:/run/secrets:rw
    environment:
      DB_USERNAME: admin
      DB_PASSWORD: password1234!
      DB_NAME: development
  app:
    build: ./docker/app/
    volumes:
      - ./src:/app
      - secrets:/run/secrets:ro

volumes:
  secrets:
    driver: local

The mikesir87/secrets-simulator image converts all environment variables to files in the /run/secrets directory. To make them available to the app service, I simply created a persistent volume and mounted it to both services. You'll also notice that I mounted the volume as read-only for the app, preventing accidental changes.
Pros

All Pros from Method #2 above
All secrets are defined in the docker-compose file, giving a single spot to see all secrets and values

Cons

None that I can think of yet!
Conclusion
If you're planning to use Swarm in production, it's good to get in the habit of using Docker Secrets in local development. Using my new mikesir87/secrets-simulator image makes it easier, but any of the above methods will do the job. If you have other ideas, let me know!